Whenever I see turtles. I sense calm. They seem to have a sense of pacific element attached to them. 
I have always been smitten by their aura of tranquility. It was their fascination that made me want to have them as a pet. Since keeping a sea turtle was out of the question. I ended up keeping a terrestrial tortoise as a pet. 

It was a small tortoise whom I named Titu Singh.  My wish was to live each moment with Titu. I even had planned my retirement with Titu. 
But after a mere 3 years of staying with me, Titu Singh died. I was responsible for his demise as I did not keep him well. It was selfish of me to keep Titu with me instead of letting him stay in the wilds. The tortoise could not adapt to the climate in my region and left me. 
More than a decade has passed of losing Titu. But I still can never get over the void and guilt that his death created. 
Since then I have vowed to never have a pet. 
That is why whenever I see turtles/ tortoises. I experience a strong realization of the absence of Titu Singh from my life. 
At times to get over my grief. I spend my time admiring at artifacts that remind me of Titu. 
During one such moment of repentance. I curated a list of handmade sea turtle gifts. If you find turtles cute. Or you too miss your tortoise companion. Then, you might want to read further.
 

View this post on Instagram

 
This post may contain affiliate links. That means if you purchase any of the products mentioned in this article through routing via the links in this post. Then, I may end up receiving a certain monetary percentage from the sale. Though the one who purchases through the link does not end up paying anything extra apart from the mentioned MRP on the product. Full disclosures on the Affiliate Page.
7 Turtle Motif Gifts That Will Absolutely Delight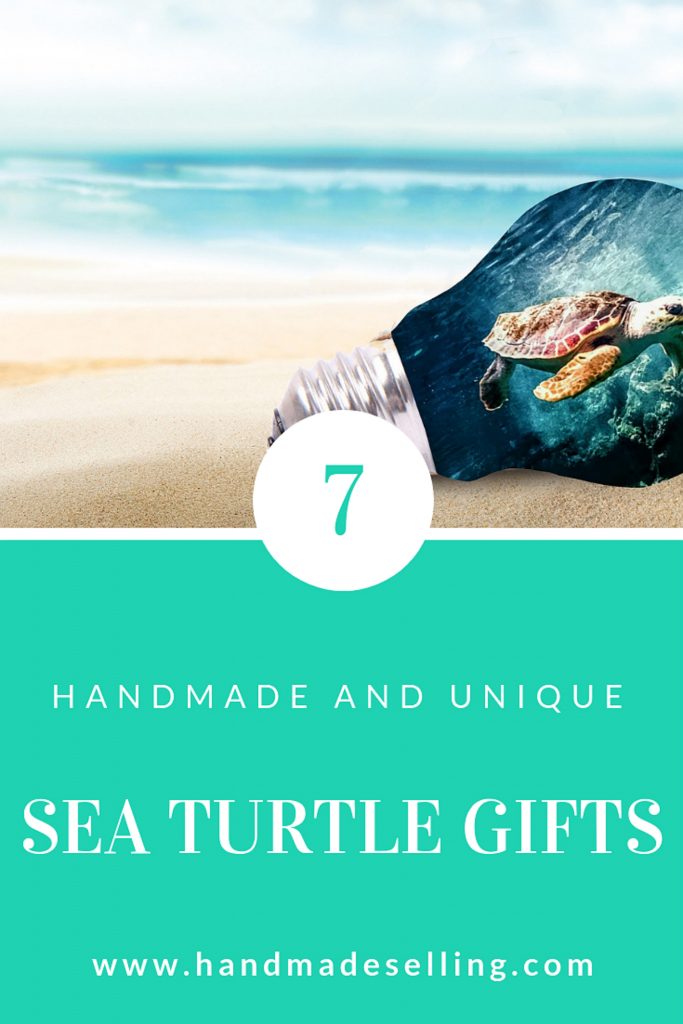 1.     Kids Chair with Engraved Turtle Art
Titu Singh is and will always be my kid. That is why this chair for kids with an engraved turtle art makes me happy. 
The chair comes in 2 sizes. You can place an order as per your kid's height. They are: 
22-inches height x 18.5-inches weight x 16-inches depth, seat height 10.5-inches, and

24-inches height x 18.5-inches weight x 16-inches depth, seat height 12.5-inches.
Also, there are 3 options for the stain on the wood. You can choose between Red Oak, Dark Walnut, Classic Gray. 
The chair is of solid wood handcrafted to perfection. It is of recycled wood. Thus it carries its unique identity. 
It has an oil-based stain and exterior paint. 2 coats of marine varnish protect the chair and the engraved turtle art.
This beautiful handmade treasure will go down generations. Much like the long-living turtles.
Hence, it is one of the best turtle gifts for kids.
     2.     Sea Turtle Brooch made with Felted Wool
Due to the small size of this brooch. It looks much like my Titu Singh.
It is a colorful rhinestone brooch shaped like a turtle. The handmade work is a beautiful creation by an artist from Maryland.

If you too had a pet turtle or a tortoise. Then, this brooch is a sweet reminder of them.

The artist creates this 7 cm long brooch with a lot of fine details. That is why it looks close to a real one.

You can wear it with your favorite solid colored dress. Or you can also use it to spice up your plain boring daily wear.

Wearing this cute accessory is sure to get you a lot of attention. People will be curious to check if this little guy moves.
     3.     Sea Turtle Mandala Beach Tapestry
If you are looking for some turtle gifts for adults. Then, this mandala tapestry is a good option.

It can work as a beach blanket or a beautiful wall decor. Though the beautiful turtle art at its center makes it perfect as a yoga mat.

Mandala has a peaceful blue color base with small splashes of orange and green.

The vibrant sea turtle art on it is a flat digital print of original Dan Morris artwork.  

The tapestry has a 64″ diameter. It is of super soft 260 GSM polyester fabric that is washable.

This sea turtle mandala is the quickest way to transport your thoughts to a beach.

The artist provides 12 wall tacks to fix the mandala. Thus, you can hang it on a wall or fix it on the sand with ease.
     4.     Unique Sea Turtle Motif Golf Ball Marker
If you are in search of sea turtle gifts for men. Then, have a look at this beautiful key-chain cum golf marker.

The unique and striking feature of this piece is at the top of the marker.

A bright handcrafted sea turtle glows at the head of the marker. It is an Escudo coin from Cape Verde. The artist layers the coin in pure bright silver. Then, the artist highlights the turtle design with rich pure 24K gold. A final coating of clear, hard acrylic protects the art from wear and tear.

The divot and key-chain have a layering of bright 14K gold.

The handmade artist uses new coins that are no more in circulation.

This regular sized golf ball marker-cum-keychain ships from the U.S.A. The entire unit comes in a special box. Thus, it is perfect as one of the best sea turtle gifts.
     5.     Sea Turtle Wooden Cutting Board
This wooden cutting board with a sea turtle motif is a beautiful gifting option. It works well for occasions such as housewarming, anniversaries, birthdays and weddings.

Due to the turtle motif. It serves as an interesting reminder to your love for beach vacations.

The handmade artist uses selected wood to create this side grain chopping board. Plus, they commit to sustainable forestry activities.

Unlike the plastic cutting boards. Wooden cutting boards have a natural resistance to bacteria. This one also has an FDA approved Tight-bond glue and food safe beeswax and mineral oil finish.

The artist uses Acacia, American walnut, and Padauk woods to create it.

The board measures 15-inches (length) x 10-inches (width) x 1-inches (height).
     6.     Origami Sterling Silver Turtle Earrings
I own a few pairs of stud earrings that have a miniature turtle motif. This origami styled sterling silver earrings seems a part of that collection.
The design of these earrings begins from sketches by the handmade artist. They then add details to create the final masterpiece.
Its dimensions are – 10 mm x 9 mm. Therefore, this pair of sea turtle jewelry looks dainty and cute.
The entire piece has a matte finish set in sterling silver 925. Thus, giving it an elegant appeal.
The butterfly back finding on its rear gives it secure wear.

Since these earrings are small and classy. Hence, perfect for formal wear for a minimalist look.
     7.     Sea Turtle Alternative Wedding Guest Book
Are you looking for some innovative ways to startle guests at your wedding? Then, this sea turtle wedding guest book is what you need.  
It is a frame-less turtle-shaped guest book.  It serves as a beautiful alternative to regular mundane options.
The outer silhouette measures –  35-inches x 32-inches. Its inner cavity has 28 units of 2.5-inches turtle charms. There are also 57 units of 1.5-inches hearts, 15 units of smaller 1-inches hearts. Both the frame and individual charms are of laser cut design of fine birch ply.
Your guests will love to sign their heartfelt wishes on these adorable charms. You can include fine tip sharpie for that purpose.  
The structure also has 20 colored mini turtle charms. These cuties add vibrancy to the entire structure. This wedding signing guest book is one of the best sea turtle gifts for a beach wedding.  
The handmade artist of this beauty ships it from the U.S.A.
The structure has a hinged wire at its rear. Thus, that makes it ready to hang.   
In Conclusion
As per a few legends, the entire world is on a turtle's back. 
If there is any truth to that notion. Then, all the creatures on this Earth owe to the turtles. 
Also, the personality of turtles/ tortoises radiates peace. Since most of their species are nearing extinction. Thus, it makes sense to adopt a sea turtle. 
But most of us are not equipped to take proper care of them. That could create discomfort for these beautiful creatures. 
Therefore, using artifacts that remind us of turtles is a good alternative. I have been doing the same for a few years. 
I love to collect home decor products, jewelry, and bags that remind me of tortoises. 
This article curates a few handmade products that draw their inspiration from tortoises. You too can buy them to surround yourself with calm. 
Image Source: Pixabay